Deputy Chief of Mission of the Embassy of India in Brasilia, ​​Mr. S. Koventhan
The Embassy of India celebrated on the morning of June 21st the International Yoga Day. The event took place outside the Brasilia National Museum, on the Esplanada dos Ministérios (Esplanade of Ministries).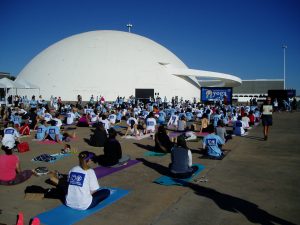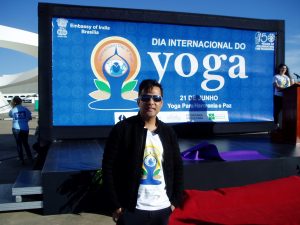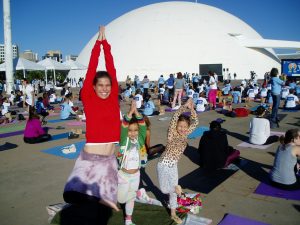 Hundreds of people attended the celebration in various cities around the world. Deputy Chief of Mission of the embassy of India in Brasília, ​​Mr. S. Koventhan, led the organization of the beautiful event. Members of the press, including many television networks, interviewed Mr. Koventhan about the beautiful event, which included the presence of Secretary of Tourism from the Federal District Government, Mrs. Vanessa Chaves de Mendonça.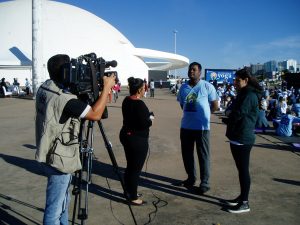 As people arrived at the event, they received a welcome kit that included a T-shirt with the symbol of the event. The morning was clear and sunny, extremely conducive to yoga practice. Everyone took their seats and the event began, led by a Yoga master, who led everyone to a perfect state of harmony between body and mind.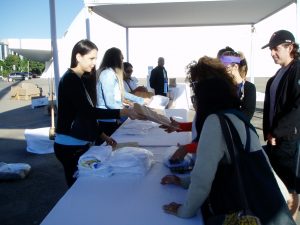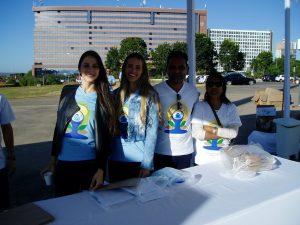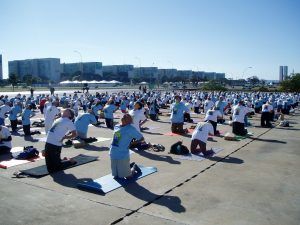 After the event, everyone received a snack that included typical Indian food. The Indian embassy also presented several people with a beautiful book about India, in an atmosphere of great joy.
THE GUIDE congratulates the Embassy of India for organizing the International Yoga Day beautiful celebration event!
THE GUIDE informs that for free coverage of diplomatic events, the invitations should be sent to:
                               Mr. Pedro Paulo Moreira
                               President Director
                               THE GUIDE Business Consultancy
                               Setor Bancário Sul – SBS, Quadra 02, nº 12, Bloco E
                               Ed. Prime Business, sala 206
                               Brasilia DF CEP 70070-120
If your prefer, send the invitations to the e-mails: pedro@theguide.com.br  or  pedromoreirabsb@gmail.com
Service information: O Acre Aqui Produtos da Amazônia  (O Acre Aqui Amazon Products) is a store  focused on the trade of 100% sustainable, organic and handcrafted products from the Amazon Region. Discover products of rare beauty that are perfect for those who want to take as souvenir, in a sustainable way, a piece of the Brazilian Amazon Region. Click here to know the store.