Ambassador of Bangladesh, Her Excellency Ms. Sadia Faizunnesa and her husband Mr. Michael Patrick Winter.
On October 2nd 2023, the Embassy of Bangladesh in Brasília hosted a reception in honor of Ambassador Masud Bin Momen, the Secretary of Foreign Affairs (Senior Secretary) of Bangladesh, who was currently visiting Brazil. The event took place at the Official Residence of Bangladesh in the neighborhood  of Lago Sul and brought together diplomats, government officials, and members of the press.
Following the initial gathering, the guests were invited to watch an introductory video showcasing Bangladesh's growth in South Asia, including its agricultural and aquacultural revolutions.
After the video, the Ambassador of Bangladesh in Brazil, Ms. Sadia Faiuzunnesa, began her speech expressing her honor in hosting the event in tribute to the Honorable Ambassador Masud Bin Momen. She highlighted Momen´s remarkable diplomatic´career, emphasizing his role as Bangladesh´s ambassador to Japan and permanent representative of Italy at the United Nations in New York, as well as his significant contributions to Bangladesh´s growth and international relations.
Ambassador Faizunnesa mentioned that this is the fourth time she has worked under  Momen´s guidance, recalling his collaborations from her early days as a junior diplomat to her current position as a senior diplomat. She expressed gratitude for the presence of Bangladesh´s Minister of Foreign Affairs in Brazil and underscored the productive meetings he held with Brazilian authorities to strengthen diplomatic relations between the two countries.
In turn, Masud Bin Momen expressed his satisfaction and honor to be in Brazil, especially after the conclusion of the bilateral political consultations. He praised the comprehensive discussion on bilateral, regional, and multilateral issues of mutual interest, identifying future areas of cooperation between Bangladesh and Brazil. Ambassador Momen emphasized the longstanding friendship between the countries, noting that Brazil was the first South American country to recognize Bangladesh after its independence in 1972 and is the only South American country where Bangladesh maintains a permanent diplomatic mission.
Mr. Eduardo Paes Saboia, the Secretary of Asia and the Pacific at the Brazilian Ministry of Foreign Affairs, also highlighted the impact of climate change in Bangladesh and the need to address these challenges. He emphasized the importance of increasing trade and strengthening bilateral cooperation in defense, agriculture, and science between Brazil and Bangladesh.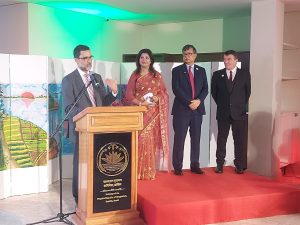 Following the speeches, the guests were treated to a dinner featuring typical dishes from both Brazil and Bangladesh. Guests had the opportunity to enjoy a delicious Dhakaii Kacchi Biryani, a Bangladeshi rice-based dish.
THE GUIDE feels honored by the visit of Ambassador Masud Bin Momen to Brazil and wishes that bilateral relations between Brazil and Bangladesh continue to flourish!
THE GUIDE informs that for coverage of diplomatic events, the invitations should be sent to:
Mr. Pedro Paulo Moreira
President Director
THE GUIDE Business Consultancy
SGAN, Quadra 601, Lote H, sala 66, Ed. Ion, Asa Norte, Brasília DF, CEP 70830-018
If your prefer, send the invitations to the e-mails: pedro@theguide.com.br or pedromoreirabsb@gmail.com