The Embassy of the Republic of the Philippines celebrated on June 12th, their National Day of its country. The ceremony took place at the Clube do Exército (Brazilian Army Club) in the neighborhood Asa Sul and was hosted by Philippine ambassador Mrs. Marichu B. Mauro.
The guests fraternized in the social hall and open air areas of the Clube do Exército (Brazilian Army Club) gazing at a stunning view of the Lago Paranoá sunset. The venue was decorated with the Filipino National flag, banners with spectacular images from the nation, screens, panels, flowers, food table, all representing that beautiful Asian country.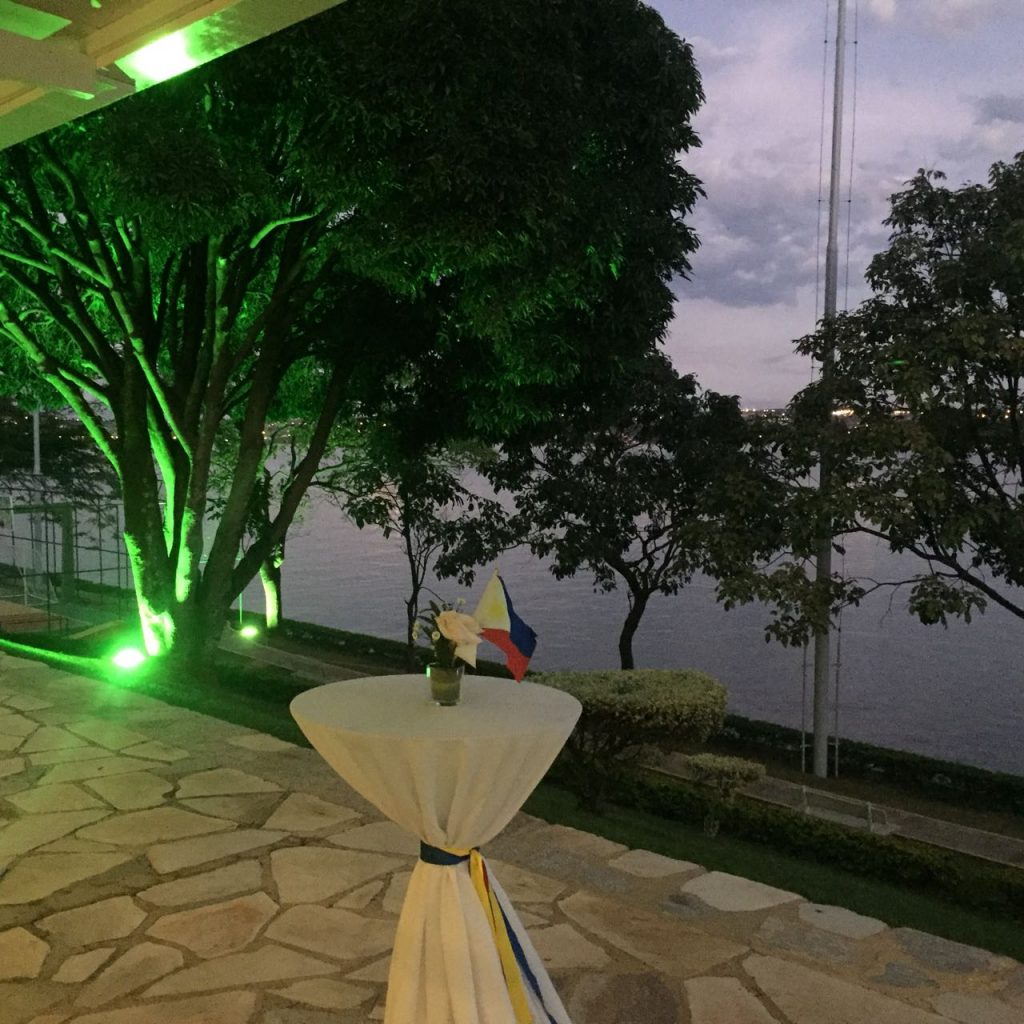 In a short period of time the location was filled with guests, including ambassadors, government authorities, diplomats, business people, intellectuals, and members of Brasília's society and the Filipino community.
After the guests' arrival, ambassador Marichu Mauro gave an initial speech welcoming all. The speech highlighted the strong relations between the Philippines and Brazil.
Following the ambassador's speech, the director of the department of Central,  Southern Asia and Oceania from the Ministry of Foreign Affairs Itamaraty, ambassador Ary Norton de Murat Quintella spoke congratulating the Filipino nation and reaffirming the strong bonds between the two countries. Both authorities proceed to cut the celebratory cake that displayed the flags of the Republic of the Philippines and Brazil.
The guests were then entertained by Filipino cultural dances, including Tinikling, followed by a Kali Silat martial arts presentation. The ambassador provided a joyful moment when she participated in the Tinikling dance. She was soon followed by other attendees.
After the cultural presentations, all guests were invited to enjoy typical Filipino dishes.
The event was marked by jubilation. All attendees congratulated the ambassador, Mrs. Marichu B. Mauro, and fellow members of  the Embassy of the Philippines for the unforgettable diplomatic social event. The guests were given at the end of the event a souvenir provided by Algar Telecom and brochures of the Philippines.
THE GUIDE congratulates the Embassy of the Philippines on their National Day!
Click here to know the beauties of the Philippines!