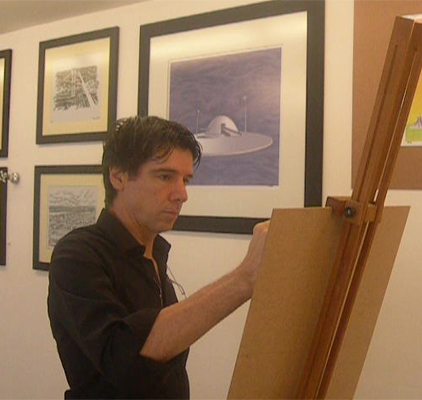 Leonardo Branco is an artist from Brasília. The object of his creation are original drawings of the city where he lives. "My generation, born in the 1960s, saw in the new capital a peculiar process: the village that became a metropolis in only half a century! In my most distant memories are the long avenues, flanked by sparse vegetation, connecting distant urban areas, so the Cerrado (the Brazilian Savanah) is also Brasília and contributes, as well as other peculiarities, to form the concept of this city.", he says. He is always searching for The City and the Cerrado in his work.
Mr. Branco produces original works as well as limited editions. Original works are unique while the lot of limited editions are prints of the same work (up to twenty, in the case of the artist), each one signed and numbered, accompanied by a certificate of authenticity, giving assurance to the collectors.
Mr. Branco's media preference is paper, so he uses a variety of techniques to obtain many different effects. He likes to work with watercolor, ink, pencil, pastel, charcoal, etc. always keeping in mind both the rich resources and the limitations of each of these techniques. "There will always be an appropriate way to use them to get out of the literal and obvious representation of my themes and move toward visual poetry and rhythm", he concludes.
The artist has a bachelor degree in arts and, also, a bachelor degree in biology at the University of Brasilia. These two areas are deeply connected in his mind, once he devotes much of his time to the psychological theories of Art and performing experiments on the illusionistic possibilities in imagery creation.
According to him, drawing is not a gift, it's just the result of dedication. "I feel privileged to have the opportunity  to verify this every day, I see that the pleasure of discoveries is endless as we look at the forms of the world with the filter of novelty.", he states. Leonardo Branco's works has been in exhibitions in the states of Goiás, Minas Gerais, Ceará and also in Brasília. He took was also part of a collective exhibition in Buenos Aires, Argentina.
The works by Leonardo Branco are on permanent exhibition in THE GUIDE office in Lago Sul, and can be visited by prior appointment.