Chargé d'Affaires of the Embassy of Zimbabwe, Minister Kossam Mupezeni and his wife, Mrs. Fungai Maideyi Deborah Mupezeni
The National Day of Zimbabwe was celebrated on April 19th, with a lunch held at the official residence, located in the Lago Sul neighborhood of Brasilia. 
The guests were received by the Zimbabwean Chargé d'Affaires, Minister Kossam Mupezeni and other Zimbabwean diplomats. The official residence was beautifully decorated, with tables spread across the lawns and the social lounge with flags and images of that beautiful country. 
Among the guests were representatives of the Brazilian government, businessmen, journalists, foreign diplomats and members of Brasilia's society.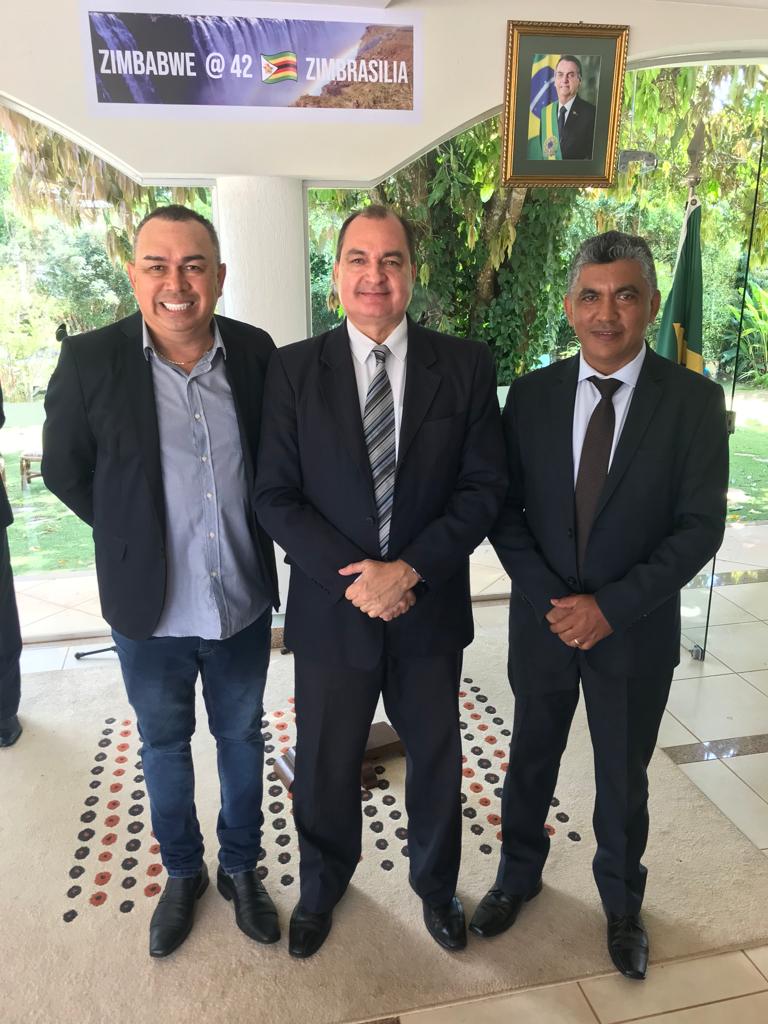 After the arrival of the guests, the anthems of Zimbabwe and Brazil were played. Then, Zimbabwe's Chargé d'Affaires, Minister Kossam Mupezemi, gave a speech highlighting his country's economic growth and the good and growing relations with Brazil. After his speech, the representative of the Ministry of Foreign Affairs of Brazil, First Secretary Mr. Roberto Salone, also delivered a speech congratulating Zimbabwe on its national day. Both speeches were greatly applauded by all. 
After the speeches, Minister Mupezeni proposed a toast in honor of his country's National Day and the strong friendship relations with Brazil. He then invited everyone to enjoy a special lunch, prepared with Zimbabwean cuisine, which was greatly appreciated by all. 
In an atmosphere of joy and fellowship, everyone congratulated the Chargé d'Affaires of Zimbabwe, Minister Kossam Mupezeni and other Zimbabwean diplomats and attachés for the beautiful celebration. 
THE GUIDE congratulates the Embassy of Zimbabwe on its National Day! 
THE GUIDE informs that for free coverage of diplomatic events, the invitations should be sent to:
Mr. Pedro Paulo Moreira
President Director
THE GUIDE Business Consultancy
SGAN, Quadra 601, Lote H, sala 66, Ed. Ion, Asa Norte, Brasília DF, CEP 70830-018
If your prefer, send the invitations to the e-mails: pedro@theguide.com.br or pedromoreirabsb@gmail.com
THE GUIDE informs:
AUDI CENTER BRASÍLIA is located in the vicinity of the Brasília Airport and offers members of the community of embassies, consulates and international organizations the most modern vehicles produced by the famous German brand, including fully electric models. Schedule a test drive with our Diplomatic Sales manager and come to know it! 
Click here to know Audi Diplomatic Sales.