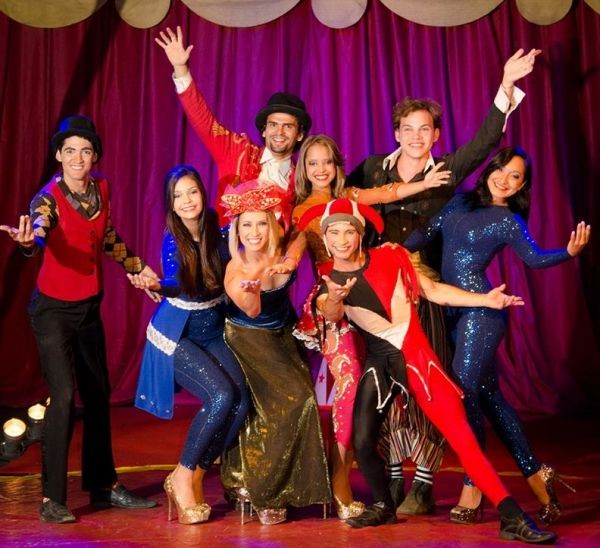 The circus tradition to travel to many cities and delight children and adults alike is at the heart of the Grock Circus International. The attraction arrives in Brasília for a long season at Centro Cultural Banco do Brasil (Cultural Center), from July 7th to September 2nd. Starring the project Gargalhando nas Férias com o Circo Grock (Laughing on Vacation with Grock Circus) that will occupy the external area of CCBB and present the show Gargalhadas Tradicionais (Traditional Laughs).
The Grock Circus promises to give Brazilian flair to the universal art of the circus. The group follows tradition but gives a spin only Brazilians can give. The attraction has been to many different countries with its peculiar style that unites circus, theater and dance. The group is formed by eight talented performers, including prized magician Mr. Jack, first place in the Northeast Magician Festival. The group originated in Rio Grande do Norte and has performed in over 33 cities throughout Brazil and foreign countries. They have been on tour over the country for the last year, participating in theater and circus festivals.
On August 12th (Brazilian Father's Day) there will be two free sessions.
Venue: External area of Centro Cultural Banco do Brasil (CCBB)
When: From July 7th to September 2nd
July: Thursday through Sunday – 03:00 pm, 05:00 pm and 07:00 pm (except on days where Brazil plays in the World Cup)
August: Thursday and Friday – 07:00 pm; Saturday and Sunday – 05:00 pm, 07:00 pm and 09:00 pm (except on August 4th and 11th)
Tickets: R$ 20 (full price); tickets may be purchased at the CCBB box office, from Tuesday to Sunday, from 09:00 am to 09:00 pm
Rating: Suitable for all ages
Duration: 80 minutes